1.Elastic Fiberglass Rope
Elastic fiberglass rope is braided through an innovative weaving method with strong shrinkage, widely used as filling material, soft link between boiler and boiler wall or stack. It has good insulation and heat resistance, also used as insulation material for motor, instrument, electrical equipment etc. with specs from ¡é4mm to ¡é25mm and heat resistance ¡Ü550¡ãC.
It has property of Electrical insulation, Heatproof, High Strength, Low elongation at break.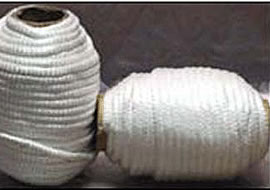 2.Polyester Fiberglass Banding Rope
Execution Standard: Q/320581BQO002-2007
This product is braided with polyester fiberglass yarn outside with fiberglass yarn lining inside. It has good dielectric performance, heat resistance, good softness, little absorption of moisture, resistance to chemical corrosion, little extensibility and good soakage of insulation paint, widely used as banding material for various high/low pressure, large/medium motor's stator winding end and stator wiring rod.
Specification: Ø1.0mm ~ Ø30mm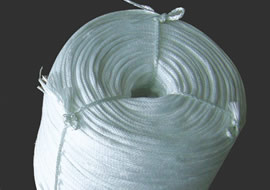 3.E-glass Fiberglass Rope
This product is twisted by E fiberglass yarn. It has good heat resistance and tensile strength, can work under 550¡æ for a long time with the shrinking rate less than 3%. It is mainly used as fastening and banding of heating wire for electrical blower and fan heater etc. thermal electrical equipment, and also as insulation material for high-temperature heating coil and pressure/heat resistant pipe.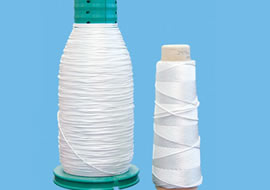 4.Fiberglass Lampwick
Fiberglass Lampwick has good absorption of oil, long burning time and no pollution etc.
Specification: from Ø3mm to Ø50mm.