INTRODUCTION
Fiberglass cloth is weaved by high quality C-glass fiber yarn or E-glass fiber yarn. The woven structure of fiberglass cloth has the following type: plain weaving, twill weaving, satin weaving.
Fiberglass cloth has the following excellent properties:
Fire resistance, High temperature resistance
High tensile strength
Anti-corrosion, good chemical resistance
Stable structure, dimensional stability
Durability
Forms around complex surface shapes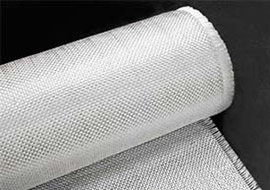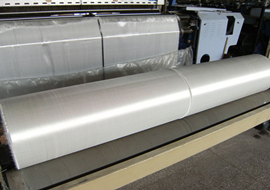 SPECIFICATION
Product Code

Yarn Tex (tex)

Thread Density (ends/10mm)

Area Weight

(g/m2)

Thickness (mm)

Type Of Yarn

Weave Structure

Warp

Weft

Warp

Weft

EC90

22X2

22X2

10

10

90

0.1

E-glass or C-glass

Plain

EC110

22X2

22X2

12

12

108

0.11

Plain

EC120

22X2

22X2

14

13

120

0.12

Plain

EC135

33X2

33X2

10

10

135

0.14

Plain

EC160

33X2

33X2

12

12

160

0.16

Plain

EC190

33X2

33X2

16

12

190

0.19

Plain

EC210

33x2x2

33x2x2

8

8

210

0.21

Plain

EC260

33x2x2

33x2x2

10

10

260

0.26

Plain

EC320

34x2x2

34x2x3

10

9

3, , 20

0.32

Twill

3732

34x2x2

34x2x2

18

13

430

0.43

Twill

EC600

62X6

62X8

8

6

600

0.58

Plain

3784

34x4x2

34x4x2

18

13

840

0.80

Satin

3788

34x4x4

34x4x4

18

13

1700

1.65

Satin

7642

68x1

136x1

18

8

228

0.22

E-glass

Plain

1652

34x1

34x1

21

21

138

0.13

E-glass

Plain

7614

34x1

68x1

18

12

140

0.13

E-glass

Plain

2116

22x1

22x1

24

23

103

0.1

E-glass

Plain

1675

34x1

34x1

16

12

96

0.1

E-glass

Plain

2165

22x1

34x1

24

21

120

0.11

E-glass

Plain

7628

68x1

68x1

18

13

210

0.18

E-glass

1080

11X1

11X1

24

20

48

0.05

E-glass

Plain
APPLICATION
Fiberglass cloth can be used widely, including electrical insulation application, heat insulation application, chemical engineering application, and construction in waterproofing applications for roofing and foundation, wall treatment, pipeline joint wrap.
PACKING£º
Width (m): from 0.9m to 2.2m
Length (m): 50m, 100m, 200m, 300m, 400m
Each roll is wound on paper tube with inner diameters of 50, 76 or 153mm. Each roll is wrapped in a plastic bag, then to be packed in a carton. The rolls are to be horizontally placed.