Fiberglass Yarn
INTRODUCTION
We supply fiberglass yarn both in C-glass fiber yarn, and E-glass fiber yarn. Fiberglass yarn has characteristic of high tensile strength, anti-corrosion, heat resistance, electrical insulation, and low moisture absorption.
Our fiberglass yarn has good quality, it is with consistent yarn tex or linear density, low fuzz, good weaving property.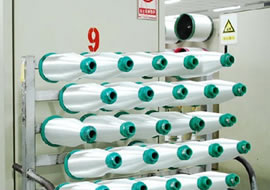 SPECIFICTION
Product Code

Filament Diameter (um)

Yarn Tex (tex)

Type of Sizing

Tensile strength (N/tex)

Twist direction

Twist/m

Packing

CCE-225 1/0

7

22

Paraffin, Silane, Starch

﹥0.4

"S" or "Z"

28~150

3.5KG/bobbin, or 0.5KG/paper tube

CCG-150 1/0

9

34

﹥0.4

CCG-75 1/0

9

68

﹥0.4

ECE-225 1/0

8

24

﹥0.4

ECG-150 1/0

9

34

﹥0.4

ECG-75 1/0

9

68

﹥0.4

The above is the technical properties of single ply yarn, we also supply all kinds of multi-ply yarn.
APPLICATION
Fiberglass yarn is mainly used for weaving all kinds of industrial textiles in the scope of reinforcement, electrical insulation, anti-corrosion, heat resistance.
Fiberglass Texturized Yarn
INTRODUCTION
Fiberglass texturized yarn (fiberglass bulked yarn) is the normal fiberglass yarn or roving inflated through the special device with high compression of air.
Compared with normal fiberglass yarn, texturized yarn has almost same tensile strength, but it is more bulky in shape as staple fiber.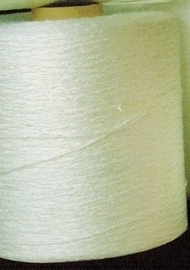 APPLICATION
Fiberglass texturized yarn is usded in weaving fiberglass cloth for heat insulation and acoustic insulation. And it is used as weft yarn, for weaving fiberglass wallcovering cloth, fiberglass RECO fabric, fiberglass mesh for marble backing.