Fiberglass Geogrid
INTRODUCTION
Fiberglass Geo-Grids is based on fiberglass woven cloth coated with modified asphalt polymer resin.
It was developed to address the problem of pavement cracking on highways, roads and runways, driven by a need to reduce costs for infrastructure maintenance and repair.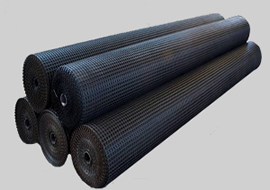 It is characterized by high tensile strength in axial and lateral directions, low stretch rate, alkali-resistance, high temperature-resistance, as well as convenience in construction and low price. It can be used on pitch pavement, bituminous concrete pavement and cement pavement to prevent cracks occurring and prolong pavement service life. It also can be used as a basal reinforcement material for hillsides, reservoirs, harbors, ports, water channels, seawalls, etc.

Fiberglass geo-grids have the following excellent properties:

1. High tensile strength: The strength-to-weight ratio of fiberglass is greater than that of plain carbon steel. At 20oC, the ratio of its elastic modulus to that of asphalt concrete is 20:1. Thus it is strong enough to prevent deflection cracks.
2. Low elongation: The fiberglass grid stress diagram shows as a vertical straight line, which indicates that its ability of deforming resistance is very high and its break elongation is less than 4%.
3. Creep resistance: Fiberglass grid is not subject to creep, unlike many other materials. When bearing a load for long periods, fiberglass grid will not permanently deform.
4. Chemical compatibility with surfacing materials: Fiberglass grid is coated with an inorganic sizing that makes it chemically compatible to all the materials used in surfacing mixes.
5. Wide temperature range: The melting point of fiberglass is 1000oC, while that of hot asphalt is 160oC. Therefore, fiberglass grid is unaffected by the highest temperatures experienced in road surfacing. It is also unaffected by low temperatures and retains its strength in temperatures as low as -100oC. Unlike other materials such as carbon fiber, Kevlar fiber, steel rib and plaster fiber, the elastic modulus of fiberglass is not affected by temperature change.
6. Physical and chemical stability: Fiberglass grid is treated with special inorganic sizing that makes it very resistant to physical wear and a wide range of corrosive environments created by chemical, biological and climatic changes.
7. Nesting, interlock and restraint effects: Asphalt road mix extrudes through the holes of grid, thereby forming a nesting and interlocking mechanism that restrains movement of the mix. This allows for improved loading bearing capability and greater dimensional stability. An asphalt road mix reinforced with fiberglass grid, which acts as a frame in the surfacing materials, forms a monolithic construction similar to steel reinforced concrete.
SPECIFICATION
Product Code

G3030

G5050

G6060

G8080

G100100

G120120

G150150

G200200

Tensile Strength (KN)

Warp

¡Ý30

¡Ý50

¡Ý60

¡Ý80

¡Ý100

¡Ý120

¡Ý150

¡Ý200

Weft

¡Ý30

¡Ý50

¡Ý60

¡Ý80

¡Ý100

¡Ý120

¡Ý150

¡Ý200

Elongation (%)

<4 %

<4 %

<4 %

<4 %

<4 %

<4 %

<4 %

<4 %

Mesh size(mm)

12.7¡Á12.7mm, 25.4¡Á25.4mm, 42¡Á42mm, 50¡Á50mm

Elastic Modulus

76

Width(m)

1m~6m

Length(m)

50m~300m

Temperature Resistant

¨C100~280 ¡æ

Resin Content (%)

18~20

Glue Type

Bitumen, PVC, SBR soakage
APPLICATION
1. Roadbed reinforcement of road and railway, crack prevention, increase of roadbed strength
2. Reinforcement and stabilization of riverside, embankment and side slope
3. Reinforcement roadbed in soft soil for railways and water dams.
4. Reinforcement of the surface of road and bridge
PACKING:
Width (m): from 1m to 6m
Length (m): 50m, 100m
Each roll is wounded on 76mm diameter cardboard tube or plastic tube, then packed in PP woven bag.